Crochet pattern for a little giraffe
Glenn – The Giraffe-Gentleman ?
Here you get a detailed and illustrated instruction, with which you can crochet giraffe "Glenn" easily by yourself. After paying, simply download the PDF file to your computer and start crocheting immediately. The manual is also suitable for beginners, if the basics are available.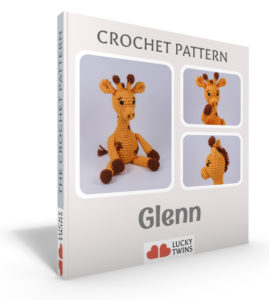 G – like genius giraffe
His high spirit and razor-sharp mind earned Glenn a position as the youngest research associate at LuckyTwin University at an early age. There he can pursue his passion – deciphering the world formula – extensively. In his private life, he wins points with his intelligent humour and his polite manner.
Hallo, I'm Glenn! When I'm working at the white board, losing myself in my work while unraveling the mystries of the universe – Time becomes relative! To regain balance I go out into nature, which frees my mind and generates positive thoughts.
Giraffe Glenn – Key Facts
size
ca 22 cm, 8.6 inch
special features
sunny fur, random spots, cuddly horns with which he can receive waves of emotion and always knows what you are feeling right now.
personality traits
purposefully, concentrated and one neck length ahead of all others
favorite color
the brown of his spots
favorite food
the cherries in the neighbour's garden
favorite movie
Up
favourite spot
the first row in the cinema
hobbies
likes to solve math – and other puzzles, likes to read crime novels
A short insight into the structure of the patterns:
Start your project now and make eyes shine bright
Here are some pictures of my pattern testers (click on the picture to view):
What are you waiting for?!
The giraffe Glenn is looking forward to you and wants to be crocheted by you.