About Me
How it all began …
Handcraft is always a good way for me to relax and leave the hectic pace of everyday life behind me. I learned to crochet and knit as a child from my mother. Many evenings we "knitted" ourselves into wool and so there were several scarves, hats and even sweaters for relatives and friends. Occasionally I even designed and gave away a cuddly toy for newborn family members, which was very well received
Crochet animals for everyone!!!
Because these "special projects" spread so much joy and came more and more often inquires, so that sometimes I did not follow at all, an idea matured slowly in my head: to work out crochet patterns for the sweet cuddly animals and to offer them to all crochet friends. Everyone (even beginners) should be able to crochet themselves or others for a few dollars a little woolly friend.
The baby needs a name
A suitable name had been in my head for quite a while and so it was found rather quickly: "Lucky Twins" – it's meant as a motto too: everyone should find his suitable "twin" and be able to walk through thick and thin with him. Every human being is unique and so each of the little woolly animals has its own character and special characteristics. But there is one thing in common: they are all happy in their world and transfer happiness to the twin.
The first sale
After I had put together the first instructions and dealt with the construction of the website at the same time, I wanted to bring them to the crochet lovers as soon as possible. When the first actual sale came in, it was a day that I will never forget! That the LuckyTwins would now leave their "safe haven" and go out into the world and that my ideas would now please other people, gave me a totally good feeling.
The family is growing
Because I got so much encouragement, I kept going and the LuckyTwins family kept growing. I'm constantly developing new instructions and incorporating them into my site. By buying a pattern you support me, so that I can be even more involved with the creation of more crochet animals.
Please feel free to contact me …
I'm really happy about feedback from you – send me a picture of your homemade LuckyTwins. For me it's a bit like old friends coming back after a long time to tell me about their adventures. I'm really excited to see how the little rascals have developed.
Thank you for being interested in my story and reading through ♥!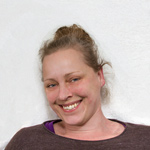 Yours Yvo!