You're brave enough to crochet a lion? Then this is the right place for you!
Lothair – Lion of passion
Here you get a detailed and illustrated pattern with which you can crochet lion "Lothair" easily. After the purchase you simply download the PDF file to your computer and you can start crocheting immediately. The pattern is also suitable for beginners, if the basics are available.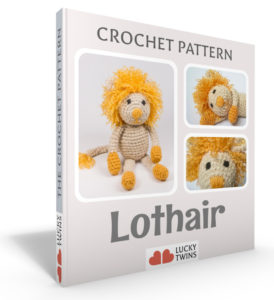 Lovable true cavalier
The lion Lothair loves his relaxed life in the wide savannah. His mane is his pride and he likes to show his ability to sneak silently through the high grass of the steppes to frighten his unsuspecting friends. Roaar! But no one is angry with him for long, because with his charming, self-confident manner he wraps everyone around his paw.
Hello, I'm Lothair! During the day I work as a voice actor for animal documentaries, at night I observe the sky through my telescope and study the stars and planets, always in search of extraterrestrial life.
Lion Lothair – Key Facts
size
about 7 inch, ca 18 cm
special features
lion's mane, big heart, especially fast runner
personality traits
charming, confident, curious, daring
favorite color
sunny yellow
favorite food
Cordon Bleu with pasta
favorite movie
The Wizard of Oz
favorite spot
a comfortable branch fork
hobbies
White water rafting and wellness
Here's a small insight into the structure of the pattern:
Start your project now and make eyes shine bright


Here are some pictures of my pattern testers (click on the picture to view):