Crochet pattern for a cute donkey
Carlos – A donkey with attitude
Here you get a detailed and illustrated instruction, with which you can crochet the little donkey 'Carlos' easily by yourself. After paying, simply download the PDF file to your computer and start crocheting immediately. The manual is also suitable for beginners, if the basics are available.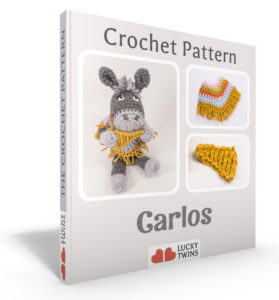 A urban donkey
Born on a tea plantation in the Andes and raised as a scion of successful business donkeys, he learned everything about mate tea and its cultivation at an early age. But because his twin brother Cid was born two minutes earlier, he took over the family business on the far continent and Carlos travels the world as an ambassador of his family tea. Where he likes it, he stays longer.
Hallo, I'm Carlos! People say I'm a good listener. That's why others like to come to me and talk about their worries and needs. I support everyone with advice and action as much as a donkey can. My father said: "There is nothing that can't be solved with a little panpipe music and a cup of mate tea.
Donkey Carlos – Key Facts
size
ca. 17 cm (6.7 inch)
special features
grey fur, long ears, irresistible eyes
personality traits
usually somewhat grumpy, rarely satisfied, warm heart
favorite color
violet blue
favorite food
Quinoa casserole and mate tea
favorite movie
Shrek
favourite spot
in the sun
hobbies
playing the pan pipe, fretwork and rubiks cube
A short insight into the structure of the patterns:
Start your project now and make eyes shine bright
Here are some pictures of my pattern testers (click on the picture to view):
What are you waiting for?!
The donkey 'Carlos' is looking forward to you and wants to be crocheted by you.