What's better than one alpaca? Two alpacas!
And here you find the crochet pattern.
Alberta – The cuddly soft alpaca
Here you get a detailed and illustrated pattern with which you can crochet your own alpaca easily. After the purchase you simply download the PDF file to your computer and you can start crocheting immediately. The pattern is also suitable for beginners, if the basics are available.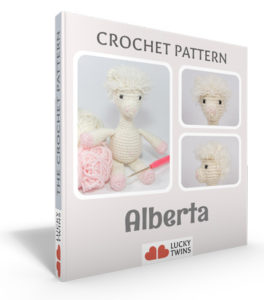 An alpaca never comes alone
Alberta is a very educated and well-read alpaca. Her sweet little nose is constantly hidden in a book or she researches interesting topics on the Internet. Together with her sweetheart Albert, she has assembled an impressive collection of stylish furniture and antique art objects. Some castles and palaces would turn green with envy.
Hello, I'm Alberta. Strictly speaking: Alberta de Ayala… because I'm from an aristocratic family, but impoverished aristocratie, as they say. For some years now I have been researching my family tree, traveling a lot around the world and getting to know more and more relatives. I can only recommend that to everyone.
Alpaca Alberta – Key Facts
size
about 6.9 inch,  ca 17 cm
special features
soft fur, stylish hairstyle, tummy belly
personality traits
very calm and prudent, but also cheeky and sometimes quite silly (has her five minutes)
favorite color
azure
favorite food
Walnut bread with apple pieces
favorite movie
Cash for Rares
favorite spot
flea market
hobbies
Art Nouveau furniture collecting and family tree research
Here's a small insight into the structure of the pattern:
Start your project now and make eyes shine bright


Here are some pictures of my pattern testers (click on the picture to view):
What are you waiting for?!
The alpaca Alberta and Albert are looking forward to you and wants to be crocheted by you.