Everybody loves frogs.
And this crocheted frog also brings luck.
Fred – a frog for all needs ?
Here you get a detailed and illustrated pattern with which you can crochet your own frog easily. After the purchase you simply download the PDF file to your computer and you can start crocheting immediately. The pattern is also suitable for beginners, if the basics are available.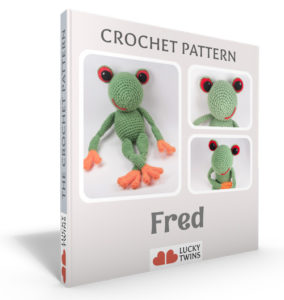 A frog goes his way
Fred, the little tree frog, spreads happiness wherever he appears. Whoever wants to make a partner nonsense and play pranks, makes the right choice with him. As a born optimist, he is selflessly committed to environmental protection and sustainability. Once a week he cooks a delicious vegetarian dinner for all LuckyTwins using fresh regional products.
Hello, I'm Fred! My motto is: Think big – think green! Our planet and its future are close to my heart and therefore I try to live in balance with nature. My tree house runs on solar energy, I only use reusable packaging and buy seasonal and regional products.
| Frog Fred – Key Facts | |
| --- | --- |
| size | about 12 inch, ca 30 cm |
| special features | loving eyes, mischievous smile and sticky fingers |
| personality traits | a always good-humoured spring-ins field with a tendency to exaggerate |
| favorite color | violet |
| favorite food | Tortilla – Chips and Quakamole |
| favorite movie | The Frog Prince |
| favorite spot | the rocking chair on its tree house veranda |
| hobbies | Yoga and Fly fishing (as sport angler) |
Here's a small insight into the structure of the pattern:
Start your project now and make eyes shine bright
Here are some pictures of my pattern testers (click on the picture to view):
What are you waiting for?!
Frog Fred is already looking forward to you and wants to be crocheted by you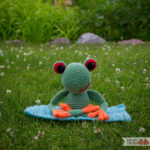 You like Fred? Then remember this page now
bei Pinterest »