Free crochet pattern for a star ?
Your basis for a dreamlike chain of lights
This little Christmas star is quickly made as a tree ornament, decoration or gift tag. Combined with an LED light chain, it becomes a great eye-catcher. A great idea to give as a gift or keep for.
material:

yarn in star yellow and Christmas red
crochet hook matching the yarn
darning needle
10 LED light chain (battery powered)

used abbreviations:

MR – magic ring
r – round
st- stich
ch – chain
sc – single stich (UK dc – double crochet)
hdc – half double crochet (UK htr – half treble crochet)
dc – double crochet (UK tr – treble crochet)
sl – slip stitch
Crochet is made in rounds . The thickness of yarn and crochet hook determine the size of the stars. I use here quite thin wool and a crochet hook 3 mm and get stars with a diameter of about 6 cm
work 20 times: MR with yellow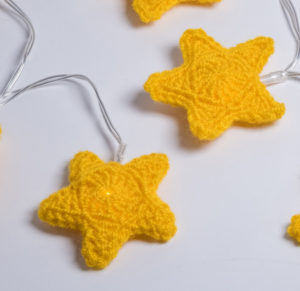 R1: 3ch, 14 dc (UK tr) in the ring, close the ring with a sl in the third ch stitch (15), pull the ring together
R2: *5ch, sc (UK dc) in second ch from hook, 1 hdc (UK htr) in the next,  1 dc (UK tr), skip 2 sts from ring and crochet 2 sl in next two stiches.* (repeat from* to* 4 more times, after the last spike finish the work with only 1 sl)
Cut the thread and pull it through completely. When a second star is ready, place the two stars with their backs facing each other and start using sl to connect the stars.
R3: *3 sl, 3 sc (UK dc) into the tip of the point of the star, 3 sl, skip 1 st *, repeat from* to*
Cut the thread and pull it through completely, do not sew.
When all 10 stars are finished, they can be put on the small lamps through the opening. Close the opening a little bit with the remaining thread and a needle, so that the lamps do not slip out so easily.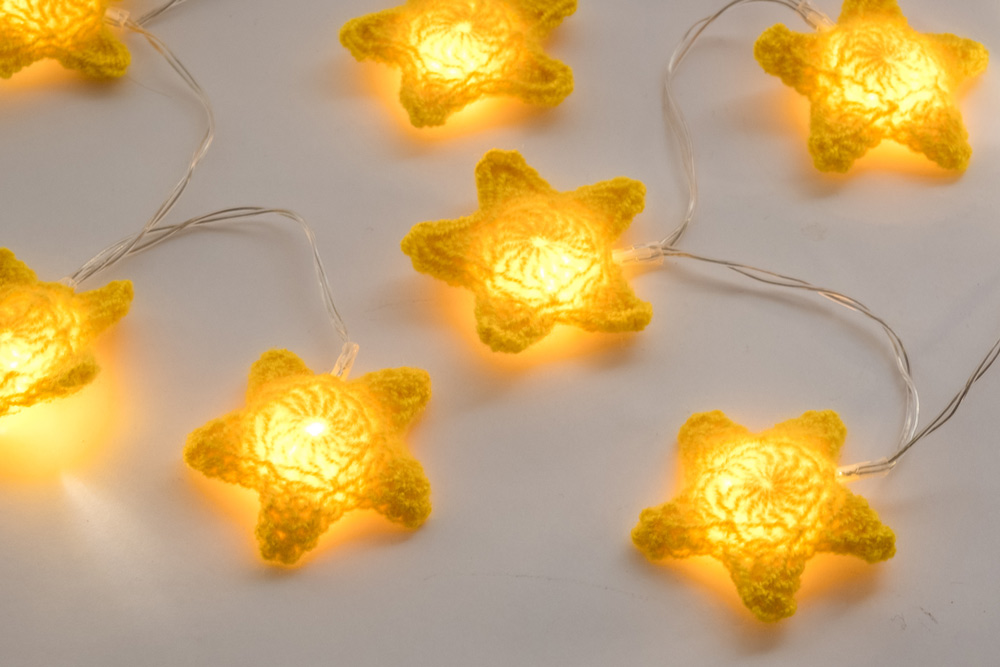 Light on! ? Have fun decorating your home or giving it to friends.