You want to crochet a rainbow? Here you can find the pattern!
3D rainbow – colorful as life itself
Here you get a detailed and illustrated pattern with which you can crochet your own rainbow easily. After the purchase you simply download the PDF file to your computer and you can start crocheting immediately. The pattern is also suitable for beginners, if the basics are available.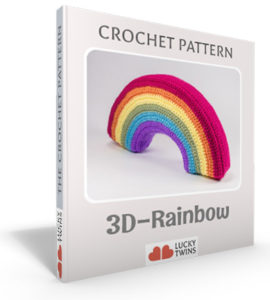 You don't have to be a unicorn to own a rainbow.
Una and her rainbow simply belong together. She loves to slide him down, and also likes to take a nap on it.  But it is also a cuddly accessory on its own, a must-have in any playroom.
| Rainbow – Key Facts | |
| --- | --- |
| size | about 6 inch high, 12 inch wide (ca 15 cm x 30 cm) |
| special features | striped, colourful, can be used as a neck pillow as well |
| personality traits | soft, permanently visible (not only when it rains) |
| favorite spot | the horizon opposite the sun |
| hobbies | works in his spare time as a slide |
Here's a small insight into the structure of the pattern:
Start your project '3-D-Rainbow' now and make eyes shine bright
Note: If you buy the manual for unicorn 'Una', the manual for this rainbow is included!